Van het Project of Doom hebben we nu 20 blokken gehad, nog 10 te gaan en de boekenkast is vol. Mijn 20 blokken zien er zo uit:
Het nieuwste blok van afgelopen woensdag heb ik ook af. Dinsdag was ik maar nét op tijd om 2 blokken 'in te leveren'. En dat was maar goed ook! Elke maand is er een prijs voor diegene die blokken laat zien. En raad 's wat? Ik heb gewonnen! Binnenkort komt dit in de bus vallen: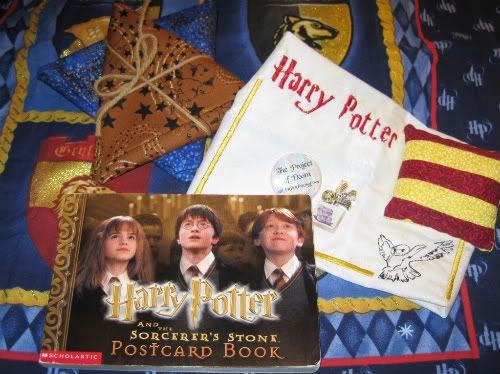 The May prize was donated by Mariarose3685 (HP Postcard book), mkissa (2 magical fat quarters), queenmlv (embroidered quilt label), ladyoflosttimes (snitch pendant), hpfan_poa (Marauder's Map pendant), lunaneela (Gryffindor pin cushion) and Sewhooked (Hogwarts fabric & PoD button). Prizes will vary slightly month to month and are awarded the last Tuesday of the month.

The May Winner is ingrid_mulder
En daar ben ik heel blij mee en trots op!!!!